Ultracur Turmeric Curcumin
Ultracur Turmeric Curcumin
A quick search of PubMed reveals over 14,000 studies citing Curcumin's health benefits.
120 caps = 30 servings $56.50 per bottle
Call us to place an order. 502-410-3411, Daily 9am-11pm EST
The benefits of Curcumin from Turmeric
Curcumin may be the most effective nutritional supplement in existence. Many high-quality studies show that it has major benefits for your body and brain. Here are the top 10 evidence-based health benefits of turmeric's curcumin.   1. Turmeric Contains Bioactive Compounds With Powerful Medicinal Properties Turmeric contains curcumin, a substance with powerful anti-inflammatory and antioxidant properties. Most studies used turmeric extracts that are standardized to include large amounts of curcumin.   2. Curcumin Is a Natural Anti-Inflammatory Compound Chronic inflammation contributes to many common Western diseases. Curcumin can suppress many molecules known to play major roles in inflammation.   3. Turmeric Dramatically Increases the Antioxidant Capacity of the Body Curcumin has powerful antioxidant effects. It neutralizes free radicals on its own but also stimulates your body's own antioxidant enzymes.   4. Curcumin Boosts Brain-Derived Neurotrophic Factor, Linked to Improved Brain Function and a Lower Risk of Brain Diseases Curcumin boosts levels of the brain hormone BDNF, which increases the growth of new neurons and fights various degenerative processes in your brain.   5. Curcumin Should Lower Your Risk of Heart Disease Curcumin has beneficial effects on several factors known to play a role in heart disease. It improves the function of the endothelium and is a potent anti- inflammatory agent and antioxidant.   6. Turmeric Can Help Prevent (And Perhaps Even Treat) Cancer Curcumin leads to several changes on the molecular level that may help prevent and perhaps even treat cancer.   7. Curcumin May Be Useful in Preventing and Treating Alzheimer's Disease Curcumin can cross the blood-brain barrier and has been shown to lead to various improvements in the pathological process of Alzheimer's disease.   8. Arthritis Patients Respond Very Well to Curcumin Supplements Arthritis is a common disorder characterized by joint inflammation. Many studies show that curcumin can help treat symptoms of arthritis and is in some cases more effective than anti-inflammatory drugs.   9. Studies Show That Curcumin Has Incredible Benefits Against Depression A study in 60 people with depression showed that curcumin was as effective as Prozac in alleviating symptoms of the condition. 10. Curcumin May Help Delay Aging and Fight Age-Related Chronic Diseases Due to its many positive health effects, such as the potential to prevent heart disease, Alzheimer's and cancer, curcumin may aid longevity.  
Product details from the manufacturer
Gone are the days of taking a supplement by Faith, hoping that the touted health benefits will somehow manifest themselves in a subtle yet significant way. Gone are the days of reading about the benefits of Curcumin and not having a visceral experience of Curcumin. Welcome UltraCur - The Curcumin You Can FEEL "UltraCür is the result of some breakthrough observations on how soluble Curcuminoids behaved in the presence of protein. The AHAH! moment came to me when I discovered that liquid Curcumin would bind to proteins before it would bind to itself. Thinking outside the box, I wondered if a protein scaffold saturated with Curcumin molecules would allow the Curcumin to be shuttled into circulation the same way that all proteins are digested and absorbed.... We tried it and we FELT it!", -- Adam Payne, Inventor and Founder of Ultra Botanica. Stop taking expensive Curcumin products when you don't feel a difference. In a recent survey 75% of our customers FELT a significant difference within a week. 50% of those people within 24 hours. STOP wasting your time and money on Curcumin you don't FEEL. Curcumin should be FELT. It's the most studied natural extract in the history of the scientific literature. Don't you think it's about time to have your own Curcumin Experience? Turmeric Curcumin Whey Complex by UltraCur - Fast Acting Natural Inflammation Support
Experience the Power of Curcumin delivered by Protein. Curcumin has been notorious for its lack of absorbability. My peers have spent years working on formulating Curcumin to improve its Bioavailability or to reduce its metabolism. They use nano particles coated with emulsifiers, they encase the nano particles in liposomes or try to improve the absorption of curcumin by delivering it with turmeric oils. All of these approaches work form one point of view. How do we get Solid Curcumin to dissolve in the body? We do better by starting with LIQUID CURCUMIN. Our patent pending technology uses Protein as a scaffold on which the LIQUID CURCUMIN molecules sit. As the body digests the protein, the Curcumin is absorbed too. With 1 to 2 capsules twice a day most people experience a significant benefit within UltraCür curcumin complex can achieve the same levels with only 1 to 2 capsules per day. 100% Natural We use no fillers or artificial materials in our product. The capsule is a fermented rice tapioca and all of the ingredients are made from Nature and all Non-GMO. Whey Protein becomes the Scaffold on which Curcumin is delivered into the body.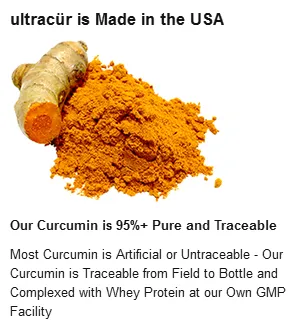 We Make Everything in the USA We use 95%+ pure Curcumin, Sunflower Lecithin and US Wisconsin Whey Protein Isolate as the core ingredients. Nothing else. We process everything here in the USA at our own GMP Facility. Whey protein Isolate from Wisconsin and pure Traceable Curcumin from USA/EU. We Use Cold Processed Wisconsin Milk to Create our Protein Scaffold Our Whey Protein Isolate comes from a Cold Processed Wisconsin Dairy Milk - Made in the USA Our Curcumin is 95%+ Pure and fully Traceable Our Curcumin is a fully Traceable Curcumin from field to Bottle. We can trace back each bottle we make to the specific field in which the product was harvested, the soil records and harvest quality. ULTRACÜR POTENCY Over a decade of research, Ultra Botanica's scientific team and their academic research partners identified the factors limiting curcumin absorption and developed a series of novel methods to address them . The result is UltraCür, a proprietary curcumin complex that is nearly fully absorbed. Using fast absorbing whey protein as the scaffold on which the curcumin is absorbed. Each Capsule of UltraCür contains 600 mg of Protein-Curcumin Complex. We use a fully balanced Curcuma Longa extract that is 95% pure bound to a Whey Protein Isolate. The ratio of complexed curcumin to the protein is 25 mg of Curcuminoids per gram of protein. Fast Absorbing UltraCür is bound to whey protein, which is scientifically proven to absorb within 20 minutes. 75% of people report Feeling a significant result in one week - 50% of those within 24 hours.. This means you will not be waiting for your Curcumin to accumulate and absorb. 100% Natural We use no fillers or artificial materials in our product. The capsule is Organic and all of the ingredients are made from Nature.


Important information Safety Information WARNING: If you are pregnant, nursing, taking any medication, planning any medical procedure, or have any medical condition, consult your doctor before use. Do not use if you are taking any blood thinners without consulting your doctor. Discontinue use and consult your doctor if any adverse reactions occur. Keep out of reach of children. Store at room temperature. Do not use if outer safety seal is broken or missing. Indications Natural Inflammation Support and Joint support Legal Disclaimer These statements have not been evaluated by the Food and Drug Administration. This product is not intended to diagnose, treat, cure, or prevent any disease. Statements regarding dietary supplements have not been evaluated by the FDA and are not intended to diagnose, treat, cure, or prevent any disease or health condition. Ingredients UltraCur Whey Protein - Curcumin Complex (600 mg), Sunflower Lecithin (<1%), Pulullan Capsule (Vegetarian, Hallal, Kosher, Non-GMO, GRAS) Directions 2 capsules twice a day or as directed by medical practitioner.